Why do the 2018 rookie RB rankings mean so much to all of us? How come we watch the NFL Draft mostly to see where the top running backs are going to land? Will the best ones end up on a team with established tailbacks already, like last year, when Dalvin Cook ended up in Minnesota, where they had just signed free-agent RB Latavius Murray? Or like in 2016, when Derrick Henry joined a Titans squad that had just traded for DeMarco Murray?
We obsess over these 2018 Fantasy Football rookie running backs because we know they have a chance to be our lottery tickets to a Fantasy championship! Last week, we shared our 2018 Fantasy Football rookie quarterback rankings, but that was child's play compared to this group!
In recent years, we have seen a nice rebound among rookie running backs in a way we hadn't seen in the past couple decades. Much of that is probably due to teams moving away from the dual systems we saw a lot in the first part of this decade, but we're also seeing more franchise rookie running backs come through the college football pipes lately.
In the past six seasons, from 2012 to 2017, there have been TWELVE rookie running backs scoring enough Fantasy Football points to land among the top-10 scoring Fantasy RBs in their respective rookie seasons (13 rookies in that same span in PPR formats!). In the nine seasons between 2003 and 2011, there were just FIVE rookie running backs to land among the top-10 Fantasy RBs in both standard and PPR leagues.
Unfortunately, the past three seasons have owners a little too excited for incoming 2018 Fantasy Football rookie running backs, so we're seeing unprecedented Average Draft Position for first-year tailbacks.
Last year, we saw Kareem Hunt and Alvin Kamara finish among the top 10 Fantasy Football rookie running backs ever, but how many from this rookie class will soar that high?

2018 Rookie RB Rankings For Fantasy Football
Rookie running backs are awesome – and this group below has been ranked according to their prospective play in standard, non-PPR leagues, unless otherwise cited.
1. Saquon Barkley, N.Y. Giants
For just the second time in Fantasy Football history, we're going to see a rookie running back in the first round of ADP. Barkley is frequently being drafted in the back half of the first round, which I am adamantly against, and Fantasy owners are bolstered by the fact that Ezekiel Elliott was the last rookie with Round 1 ADP – and he turned out pretty awesome.
Here's the thing – no matter how you slice it, the Giants offensive line is not one-third as good as the Cowboys offensive line was in Elliott's rookie season. ProFootballFocus ranked the Giants' O-line 26th from a season ago. While injuries affected them greatly, it's tough to have "first-round rookie RB" confidence in them.
What we know: Barkley is a three-down talent and the Giants are going to feature him heavily, with a passing attack that is above average, keeping defenses busy elsewhere than the scrimmage line. He's a big, powerful back with great hands and top-notch speed – who doesn't love that combo? That's exactly why he's the top pick in our 2018 rookie RB rankings.
But here's why Barkley's Fantasy value is inflated:
Ezekiel Elliott, Leonard Fournette, Todd Gurley, Jordan Howard, Kareem Hunt, David Johnson, Alvin Kamara and Christian McCaffrey were all top-10 running backs as rookies in the past three seasons, giving Fantasy owners a false sense that this is a regular occurrence.
The first rookie drafted in Fantasy leagues has only finished as the top-scoring Fantasy rookie about 22 percent of the time since 2000.
Early round ADP Fantasy running backs have about a 50-percent chance of success at being a top-24 running back.
As much as I love Barkley's tools, I can't risk taking him with a first-round pick, which has to be a winner for me, no matter what.
2. Derrius Guice, Washington Redskins
For the third consecutive season, Jay Gruden's Redskins will look to a rookie running back as their ground-game savior. Different from Samaje Perine and Rob Kelley, however, is the fact that Guice is a much better talent coming out of LSU. While Chris Thompson should still steal some touches as the third-down back, Guice has tons of potential in this offense, and drafting him as a Fantasy starter RB2 is a good idea in the late third/early fourth round. Drop him a few spots in PPR formats, however.
Embed from Getty Images
3. Rashaad Penny, Seattle Seahawks
The Seahawks have been searching for running back success for a few years now, ever since Marshawn Lynch hobbled through an injury-riddled 2015 season. From Thomas Rawls to Christine Michael to C.J. Prosise to Alex Collins to Eddie Lacy to Chris Carson, they've had a revolving door at tailback, taking handoffs from Russell Wilson. (Can you believe J.D. McKissic was the top-scoring Fantasy running back for the 2017 season in Seattle?)
Penny should fix all of this, and the fact the Seahawks invested a first-round pick in the San Diego State product should make Fantasy owners feel even better. Penny is a player with a higher NFFC ADP than Guice right now, but I'm not as excited about his chances of success behind this offensive line as I am Guice with Washington.
4. Ronald Jones II, Tampa Bay Buccaneers
The USC tailback joins a Bucs offense that disappointed last season, which is great for Jones' prospective Fantasy owners. If their offense was awesome, and Doug Martin was still let go, then Jones' Fantasy value would be through the roof.
Jones has big-play ability, something the Buccaneers sorely lacked last year, and they're hoping he'll solve their woeful red-zone issues. The good news is – the Bucs were one of the best offenses between the 20s, which means they should be able to get Jones a lot of opportunities to help them in the red-zone in 2018.
It's possible Jones will work in tandem with either Peyton Barber or Jacquizz Rodgers, which hurts his Fantasy value a bit. But if Jones can prove he's adept in the passing game – at both catching the ball and protecting Jameis Winston – then his touches will increase significantly.
5. Sony Michel, New England Patriots
Speaking of seeing something "special," did you catch what Michel was handing out with Georgia late last season? He was the lightning to Nick Chubb's thunder, and I expect him to be utilized in several different ways in Josh McDaniels' offense. If Bill Belichick wasn't the head coach, a guy that loves to play the shell game with his running backs all season ruining Fantasy owners' lives (see Mike Gillislee, 2017), then I'd have Michel as a third-round pick. But at this point, with Dion Lewis out of town, I like Michel to lead the Pats in touches, and he makes for a great fifth-round pick with RB2 upside.
The Patriots taking Sony Michel is a fantasy football nightmare. They now have….
– Sony Michel
– Mike Gillislee
– Jeremy Hill
– James White
– Rex Burkhead

Good luck sorting that out.

— Ian Kenyon (@IanKenyonNFL) April 27, 2018
6. Royce Freeman, Denver Broncos
Let me be the first to say Freeman might just be the poor man's version of Saquon Barkley for the purposes of this draft. At least, he has the potential to be. He's a big back with good hands and good speed, but he's not necessarily great at anything. The Broncos talk about using him as a three-down back, but with C.J. Anderson out of town, I expect Devontae Booker get the first crack at full-time work. Freeman might get his teeth cut as the team's goal-line back, which is certainly tasty from a Fantasy perspective. I wouldn't be surprised to see Freeman get overdrafted, then possibly released by disgruntled Fantasy owners in the first four weeks, only to end up as a top-30 running back by season's end. (Remember Alvin Kamara?)
7. Kerryon Johnson, Detroit Lions
To me, Johnson represents one of the greatest mid-round gambles in Fantasy right now, as he could be the Lions' lead back, regardless of the presence of LeGarrette Blount or Theo Riddick. But we still must consider that it will take a while before he earns the "lion's" share of Lions carries.
Lions management has already mentioned they expect the Auburn tailback to lead the team in carries, and the fact they moved up in the draft to get him means they see something special in him.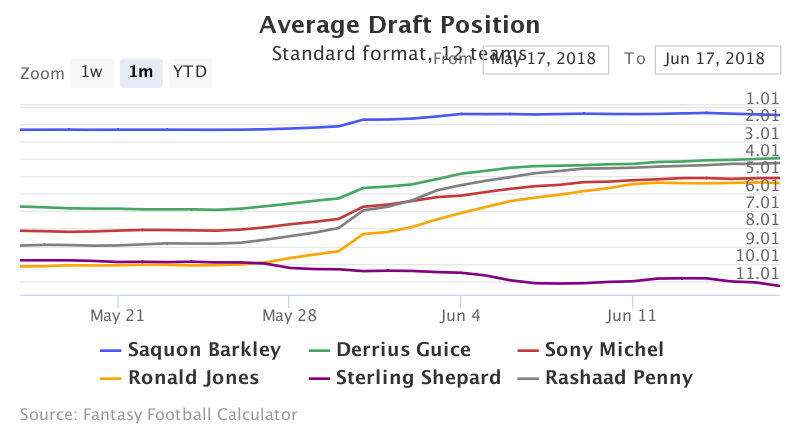 8. Nick Chubb, Cleveland Browns
One of the college running backs I've been the most excited about seeing play in the NFL over the past couple years is Chubb, the other of the Georgia rookie running backs. Chubb was also the guy who replaced Todd Gurley in Athens a few years ago – both when Gurley got injured, and then after the future NFL star moved on to Los Angeles. Chubb is a completely different player from both Gurley and Michel, who he played with last season.
Unfortunately, Chubb lands in Cleveland, where they have tons of other offensive options – even in the same backfield, where Duke Johnson resides and newly signed free agent Carlos Hyde. On top of all that, the Browns even have a rookie quarterback that might struggle to lead that offense, limiting their opportunities. As much as I like Chubb, I can't get too excited about his predicament in Cleveland this year.
9. Nyheim Hines, Indianapolis Colts
Hines will compete with last year's rookie Colts RB, Marlon Mack, and veteran Robert Turbin for carries in Indy. Midsummer reports out of OTAs, however, indicate the Colts might lean heavily on Hines, lining him up all over the place. The speedy tailback out of N.C. State will likely get time as a return man, too, which I never like from my Fantasy running backs.
Remember that one-out-of-five rookie running backs drafted in the late rounds of Fantasy drafts over the past 10 years have turned in top-24-RB performances in their rookie season. Hines is a nice late-round sleeper who could fill that 20-percent slot.
10. John Kelly, L.A. Rams
From the first nine 2018 Fantasy Football rookie running backs to this next set, there's a deep divide, as I really consider this rookie group to be nine strong.
One person in your league had great success with a rookie running back out of Tennessee last year, and while Kelly doesn't fit the same mold as Alvin Kamara, there's reason to like him as a late-round handcuff to Todd Gurley. This rookie has good hands and can break tackles, but he'll need opportunity, which means an injury to the best player in Fantasy Football.

Hopefully, you're as excited about these 2018 rookie RB rankings as I am! We've already discussed the rookie QBs, and next week, we'll hit the 2018 rookie wide receivers and tight ends. But it's this group of 2018 rookie running backs that really get your Fantasy engine going. Meanwhile, send the SCFE Fantasy Football staff your keeper questions for free! And don't forget to check out Mark Strausberg's bold preseason predictions for this season!
Latest posts by David Gonos
(see all)